Sevenoaks School's first virtual STEM event
---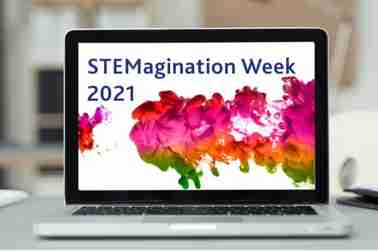 Dr Ali Galloni, head of science and technology at Sevenoaks School, explains how the school moved its annual STEM Week online during lockdown.
This blog was first published on the ISC website on 16 Apr 2021.
This year, under the theme of creativity in science, our "STEMagination Week" took place entirely online from 1-5 March, just before schools returned on 8 March. The aim of STEM Week, inspired by British Science Week, is to motivate pupils from primary and secondary schools and raise awareness of possible careers in the field, a small step to help narrow the well-publicised STEM skills gap. STEM Week at Sevenoaks has traditionally been an opportunity to share the school's resources with the local community in a celebration of all things science and technology. This year, over 30 schools took part in virtual experiments and insightful talks.
In previous years, our annual STEM event has hosted thousands of students, and we distributed outreach boxes to local primary school teachers to support their own lessons. As the lockdown persisted, we moved everything online. The broad theme of "Science and the Imagination" led to a flood of offerings from teachers for cross-curricular online talks, workshops and competitions across the school, along with ideas for external speakers. At the same time, students who were running the STEMagination Week fair for their IB CAS (Creativity Action Service) project invited their participants to make videos talking through their academic posters for their virtual stands, once it became clear a live fair could not happen.
Using a mixture of Teams Live, Teams meetings and Zoom, we compiled a programme with something for everyone from Key Stage 1 to 5 and beyond. Sessions from our own teachers included designing rocket-cars to be 3D printed, "Invention and Change" storytelling based around Perdix the inventor, the art of Arcimboldo, a live liquid nitrogen show, "Life on other worlds", "Bioengineering", squid and rat dissections (and then a slow-looking and drawing session based on the fascinating squid anatomy), the chemistry of the film "Limitless", "Lies, Models and the Imagination" and an insight into the COVID-19 pandemic through the use of models.
External speakers were freed from the burden of travel: Professor Dame Janet Thornton explained proteins in the light of AlphaFold, Dr Matthew Chalmers, editor of the CERN Courier, encouraged students in an interactive Zoom session directly from Geneva to communicate the Future Circular Collider (the team at CERN are genuinely looking for help from young people as to how to get public buy-in for the next supercollider). Dr Laura Hepburn took us on a tour of hydrothermal vents and chaired a debate on deep-sea mining, and Dr Francisco Diego from UCL enraptured younger students with tales of the start of the universe. Science Made Simple, who are based at Cardiff University, put together video shows on bubbles, sound, sport and careers in engineering.
Competitions included a bake-off, a photography competition and a Wikipedia treasure hunt.
The student-led fair was a great success – the virtual walkthrough of student projects created in lockdown (across all year groups, including siblings working together) was a real highlight of the week. We also incorporated an IB Group 4 final project morning into the week, which resulted in 24 excellent videos created by students.
We were delighted with the engagement. Teams live Q&A panels were effective tools for inviting questions from wide audiences (even before the event) and presentations worked well, whether pre-recorded or live. It was a real treat to produce many of the events around remote lessons and as it turned out, the timing of the return to school was fortuitous – the week felt like a "last-week-in-lockdown-bonanza": a chance for students to showcase their work, connect with local schools and to have fun.
I am immensely grateful to all those who contributed and to our local community of partnership schools who always work with us so readily. We will, I am sure, keep some aspects online next year even if restrictions are lifted and our students can once again run workshops themselves. STEMagination Week came hot on the heels of our Green Week - which pioneered the online setup for this event - and since we have been back at school, our student-led Refugee Week also followed a similar pattern, with online and on-site working seamlessly hand-in-hand and offering many more opportunities in the future.
For more information on Sevenoaks School's STEM outreach, visit: 
https://outreach.sevenoaksschool.org/stemaginationweek