Building upon community structures and understanding to drive long-term change
---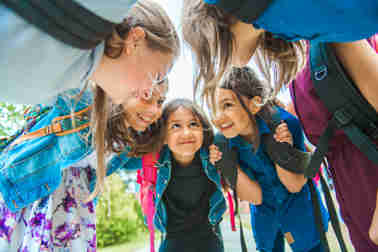 Cat Davison from Sevenoaks School, chair of the ISC Community Action Group, considers how local groups created during the coronavirus pandemic could inspire lasting positive change.
This blog was first published on the ISC website on 6 Aug 2020. 
This period has demonstrated what we can achieve as communities when crisis hits; we are able to seek out a greater understanding of the needs around us and work together to try to ensure our communities are healthy and safe, wherever we stand on the political spectrum.
However, the real measure of change will be the extent to which we continue to grow our understanding of our communities in the months ahead: whether the local systems and organisations created will take on a new life, built from a renewed sense of compassion and connection, and the extent to which the Government ultimately creates a long term response that enables everyone to thrive.
I have been inspired by the collective action in my community in the past four months; this period has enabled us all to learn more about pre-existing and newly created inequalities, whether relating to income, health, technology or simply human company. In Sevenoaks the 'Care for our Community Sevenoaks' group was created by a parent and businesswoman, bringing over a thousand volunteers together to work with the Sevenoaks District Council and local groups such as The Hygiene Bank, Sevenoaks Food Bank and Age UK to ensure that the needs of our community were better understood and met.
A group of our staff quickly joined, supporting local people who were shielding with shopping and prescriptions, whilst also working collaboratively with local groups to collect laptops and devices to reconnect people and increase access to online learning. We've led a weekly food and hygiene collection based upon local needs identified by local primary teachers, supported an NHS Primary Care Treatment centre on our campus and our technology department has created vital PPE and face shields, even in their garden sheds. We have also worked alongside the District Council, West Kent Mind and Age UK to create a 'Telepal' phone befriending initiative. Our service programme took an online form with students continuing existing relationships such as those with local Syrian refugees, and also leading a remarkable array of their own socially-focused projects. We have all grown in this process, feeling more connected to the people around us.
Our attention now needs to turn to the exciting future potential of these local groups, which have popped up across the nation. How can we harness the surge of volunteer enthusiasm, growth in local understanding, and the formation of new collaborative relationships (that have healed some post-Brexit divisions)? Could these local groups work with existing local organisations to match new volunteers with key areas of need? Could we simply use these new structures and enthusiasms to create awareness of social needs to help inform local and national government policy?
The 'Clap for our Carers' initiative has brought people out of their houses for new conversations and many streets now have WhatsApp groups – will these groups continue to work together and check in on those they have realised were lonely? It would be strange to hold one rule of community collaboration for a crisis, another rule for 'normal' life, despite the ongoing crises experienced by many.
Alongside other teachers in Kent, I'm supporting the Invicta Summer Academy, which is a remarkable venture set up by local citizens to provide over 200 free online maths and English lessons this summer; certainly, there seems to be an exciting short-term opportunity for communities to equip students with additional support needed to catch-up, although this initiative and those similar do not intend to replace the longer term relationships generated with their own teacher. Similarly, we have all seen the potential for online teaching to broaden access to quality education; at the same time, it is important to remember that schools offer an education stretching far beyond maths and English – we must ensure that a focus on character development and wellbeing, and indeed, reflection on the purpose of education more widely, are central to the development of online platforms.
Community-centred curriculums with practical service opportunities can also give our students the skills, understanding and confidence to become part of an agenda for change. I've found that my students have increasingly related their learning to the inequalities in the world around them, whether looking to understand systemic racism or inequalities created and highlighted by the pandemic – our Critical Thinking and Society and Change curriculums provide a formal space for this discussion.
The pandemic has ultimately catalysed a call for wider action – community and political leaders are turning to consider how we can harness this for the long-term welfare of our societies. I believe that all schools can take a central role in this, ensuring their curriculums are community-connected and in acting as a point of collaboration for different community stakeholders. Dotty, my neighbour, now has my number – and I hope that she, and other neighbours, continue to call it.